Colours Available for Serum Intense Lipstick
- [#LR02 Pink Pleasure]
- [#LR04 Like Me Pink]
- [#LR07 Love Me Pink]
- [#LR102 Pink Crush]
- [#R12 Luminous Red]
- [#YR22 Love Apricot]
- [#YR24 Twinkle Coral]
SERUM INTENSE LIPSTICK
Highly moisturizing lipstick with extraordinary color payoff, as if the lips were covered in serum.
LED lipstick gives the lips a clean, and transparent sheen as if they were under a strobe light. Unveil your inner charm with Laneige's new Serum Intense Lipstick.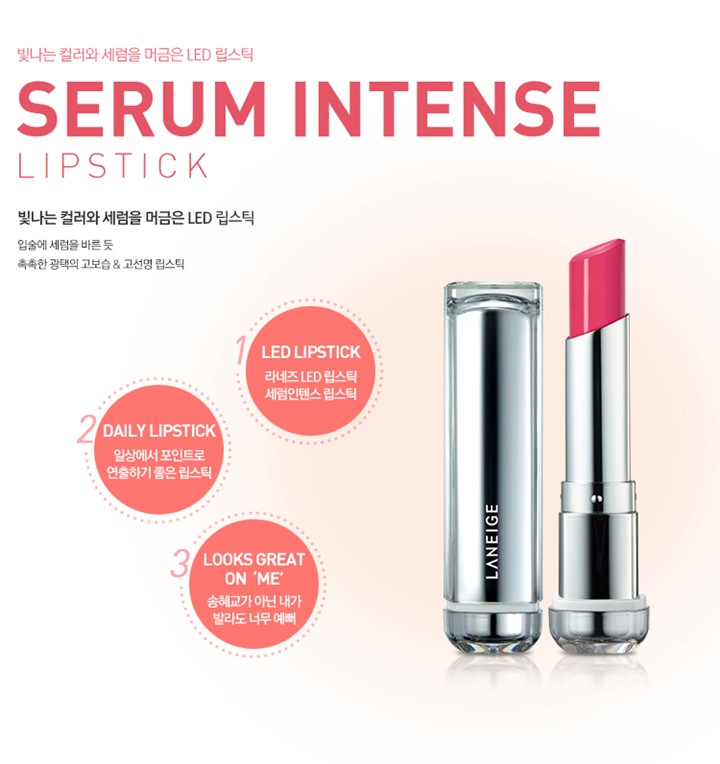 1. High shine with excellent moisturizing properties, contains 35% serum
The lips feel moisturized, as if you have applied highly moisturizing serum, and have excellent glow.
2. Vivid yet delicate colour payoff
The moisturizing pure base and Pigment Downsizing Technology enhances the lipstick's color, giving the lips a vibrant, mesmerizing color.
3. Soft, comfortable texture that resembles cushion
Big Cage Formula enhances the serum content, giving it a soft, bouncy texture when applied to the lips.
All Shades
---
*Results from the use of beauty product above may vary depending upon the individual and will depend on multiple factors, including your age, gender, skin type and condition, use of other products used, health history, lifestyle, diet and others